RNIB See Differently Awards 2022 – meet the judges
A huge thank you to our talented judging panel who gave their time and experience to help select the RNIB See Differently Awards 2022 winners.
Each one of our judges brought vital insight and lived experience of the sight loss sector into the judging process, and ensured every entry was given the time and attention our incredible entrants deserved.
The judges
Charlotte is a journalist for Sky News. She started her career with work experience in the fast-paced newsrooms of The Mirror and The Telegraph. Charlotte has a keen interest in investigative stories with an emphasis on exposing the truth. She writes on a variety of topics from politics to entertainment and lifestyle.
"I am thrilled to be a judge for the See Differently Awards this year. I can't wait to bring my campaigning knowledge to the panel and read so many fantastic nominations. The awards celebrate those that are changing the world for blind and partially sighted people, and I am honoured to be a part of this."
Rasheed is a long-term user of RNIB's services, including our Talking Books Library and Technology for Life team. He joins the panel with a first-hand understanding of what a truly inclusive service or accessible product looks like.
"It is a great honour to be part of this year's judging panel for the See Differently Awards. There are some truly inspirational people in the blind and partially sighted community, I can't wait to read about the work of my peers. It's going to be a challenge just picking one winner for each category."
Rasheed has a background in managing mental health rehabilitation units with adults and youth offenders, as well as training local authorities in mental health legislation. Currently he is a Treasurer for the Organisation of Blind Africans & Caribbeans (OBAC). In Rasheed's spare time he loves to swim, go for walks, and explore his love of literature through reading and reciting poetry.
Bernie Chang is President of The Royal College of Ophthalmologists. He is a Consultant Ophthalmologist with a special interest in Oculoplastics, Lacrimal and Orbital Surgery at Leeds Teaching Hospitals NHS Trust. 
Arriving in the UK for his secondary education in 1986, Bernie attended medical school in Bristol before embarking on a career in ophthalmology in the South-West of England. He went on to registrar training in Yorkshire and Fellowship training in Dublin before being appointed consultant in 2003. 
He has been a serving College Officer in a number of roles in the last 16 years, from a regional representative for Yorkshire, Honorary Secretary, Vice President and Chair of the Professional Standards Committee; also chairing the college's External Reviews Committee and a subsection editor for the Eye Journal for over four years. 
"There is always an abundance of great work happening in the sight loss sector and it's great that the See Differently Awards shine a light on some of the outstanding achievements. I can't wait to read all about the new innovations and work that has been happening over the past couple of years." 
Bernie's clinical experience includes serving as expert advisor (devices) for MHRA, BOPSS (British Oculoplastics Surgery Society) committee and the BMA Ophthalmic Group Committee; past member of the Training Interface Group on Cosmetic and Reconstructive Surgery and continues with links with Malaysia (Visiting Professor of Ophthalmology in UNIMAS) and Trinidad.
Claire Combes is Chair of Airmic, a not-for-profit membership association for everyone with responsibility for risk management or insurance in their organisation. Airmic supports its members with technical content, insight, training and networking opportunities, to further develop their careers and the risk and insurance professions.
"I'm delighted to be involved as a judge in the See Differently Awards. It's fantastic to be able to recognise and celebrate the difference made by people who are supporting those with sight loss and their contributions to wider society."
Claire is also Director of Risk and Assurance at EasyJet, having previously held similar roles at a number of FTSE 100 companies, including Intu Properties, Marks and Spencer, Lonmin and others. She started her career as a chartered accountant and has held a variety of finance and risk roles over her career.
Claire has always been passionate about diversity and inclusion and has nominated RNIB as her chosen charity for Airmic this year.
Sean Dilley is the BBC's Project Lead for Reframing Disability, promoting inclusivity within content. Sean was born with congenital blindness with conditions as varied as cortical visual impairment to nystagmus, but it wasn't until the age of 14 that he lost the 15% acuity he enjoyed in his childhood.
"It is an honour to be asked to be part of the See Differently Awards judging panel. The sector has some strong voices pushing to make the world a better place for blind and partially sighted people. I can't wait to read all about the fantastic work that is happening in the sector, it is sure to be a humbling day."
Sean is also a specialist and general news correspondent with the BBC and was mentioned in the corporation's 2021 annual report as the first blind Panorama reporter. He has also worked for Sky News and UTV Media, and as a member of the Parliamentary Press Lobby in the UK Parliament for eight years.
Lucy Edwards is a UK-based blind broadcaster, content creator, Pantene Ambassador and disability activist who is usually accompanied by her cute guide dog Molly. At the age of 17 Lucy lost her vision due to a rare condition called incontinentia pigmenti. Every day she educates her audience through entertaining short videos all about blindness amassing over 300 million views.
"I feel so excited about being on the judging panel this year! It's such an honour to be asked as I know that these are some of the biggest awards within our community. There are so many amazing nominees!"
She is also a regular consultant to global brands such as Google, TikTok, Proctor & Gamble, Unilever, Samsung and Estée Lauder to name a few. This marks Lucy as a leader for the worldwide movement for universal design. Her motto to life is that she is 'blind, not broken'.
As Head of Advocacy and Campaigns at the British Pregnancy Advisory Service (BPAS) Abi spent 10 years at the heart of the reproductive rights movement in the UK, creating social change on some of the most challenging issues.  More recently she ran the Public Affairs and Stakeholder Engagement team at regulator the Nursing and Midwifery Council. She is a devoted long distance runner.
"I'm honoured to be joining the panel for the See Differently Awards. We have a long way to go to create an equal world for blind and partially sighted people and the nominees are making sure we get there. I'm looking forward to learning more about their stories and impact on our shared mission."
Clara Govier is joint Managing Director at People's Postcode Lottery, having been appointed in May 2018. A knowledgeable and skilled leader, she currently oversees the Charities, Communications, Events, Finance, HR, and Licence and Politics departments.
With extensive experience in the charity sector, Clara joined People's Postcode Lottery's team in 2010 leading the Charities and Communications departments, before being appointed as Deputy Managing Director in February 2018.
"We are proud through the support of players, to be a partner of RNIB and I have been fortunate to see the many valuable services they provide and the impact they have. I feel very honoured to be asked to be part of the judging panel for the See Differently Awards and I am truly looking forward to being inspired and in awe of the entrees but less so deciding just one category winner!"
Previously on the Board of the Nationwide Foundation, she is a director of the Lotteries Council and a member of the High-Level Steering Group for the Education Cannot Wait Fund. She is also an Associate Member of the Institute of Fundraising and Association of Chief Executives of Scottish Voluntary Organisations.
An accomplished communications professional, Clara led communications for Scottish Wildlife Trust, Edinburgh's Royal Botanic Garden and Royal Zoological Society of Scotland prior to joining People's Postcode Lottery.
Minnie Moll is the Chief Executive of Design Council. She was previously Chief Executive of Jarrold Retail in Norwich. Her other roles have included Joint Chief Executive of the East of England Co-op, Executive Director of Marketing at Notcutts Garden Centres, Global Marketing Director of leading innovation company, "What If?", and Managing Partner of advertising agency HHCL.
"I'm delighted to be joining the panel for the See Differently Awards. Great design is a design that is inclusive and enables everyone to participate equally, confidently and independently in everyday life. I'm looking forward to celebrating and shining a light on some of the inspiring people making this happen."
Minnie was voted Vistage Business Leader of the Year in 2020 and listed as one of the 100 Most Inspirational Women in Suffolk and Norfolk in 2018. She was appointed by HRH Prince Charles in 2016 as his Ambassador for Responsible Business in the East of England as part of Business in the Community. Minnie has been a board member of two Business Improvement Districts (BIDs) and a Town Deals Board. She is currently an Ambassador for the charity Fresh Start – new beginnings.
Will O'Connor has worked for leading brands such as Marks and Spencer, Hamley's and The Body Shop  for over 25 years. He is currently Product Value Chain Director at Vision Express, a partner of RNIB.
Will is also the co-founder of innovative consultancy group, The iO Group, which exists to make the world of business healthier. He is also a visiting speaker at the University of Cambridge, where he specialises in purpose-driven leadership and sustainable business.
"With my background in business, I love to see how people innovate and challenge the status quo. I am especially looking forward to reading the nominations from the Design for Everyone and Employer of the Year categories as this is where my passion lies. One of my biggest career inspirations has been Anita Roddick and I'd like to use her words to express myself: 'My passionate belief is that business can be fun, it can be conducted with love and a powerful force for good'."
Sumita Singha is an architect, teacher and writer with awards including the UIA:UNESCO, Women In Business and Atkins Inspire. Sumita founded Architects For Change, the Equality forum at Royal Institute of British Architects and is past Chair of Women In Architecture. Sumita has served on many professional committees for over 25 years, including the Standards panel. She is a nationally elected Councillor at the Institute.
"I have eye problems running in my family and my father and grandmother, who lived in India, were blind. Despite the lack of facilities for them, their blindness did not stop them from participating in life. I'm delighted to be a judge for See Differently Awards, especially as a non-executive Director of Moorfields Eye Hospital NHS Foundation Trust."
She is a non-executive Director at Moorfields Eye Hospital NHS Foundation Trust. Sumita is a trustee of Architects Benevolent Society, Waltham Abbey Royal Gunpowder Mills and Commonwealth Association of Architects; and Founding Director of Charushila, an environmental design charity. She has also taught sustainable design for over 25 years, is visiting Professor at the Politecnico di Milano, lecturer and external examiner at several UK universities. Sumita is the author of several books on architecture and sustainable design.
Sumita received an OBE for services to architecture in 2021.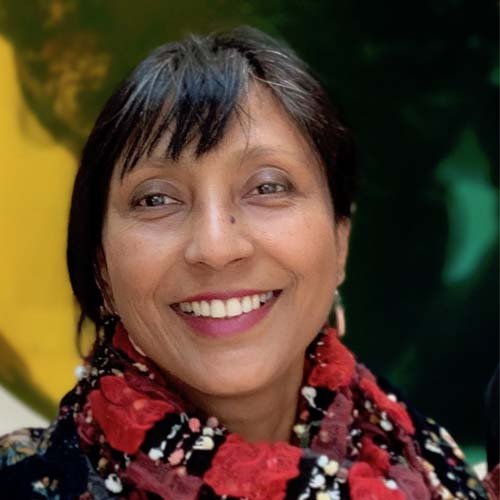 Dennis is the Country Manager for Amazon Alexa overseeing all aspects of projects and hardware product development in the UK & Ireland. Having worked at Amazon for nearly 15 years Dennis is passionate about diversity and inclusion frequently appearing on the RNIB's Connect Radio and is dedicated to showcasing how voice-first technology, such as Alexa, can help improve the lives of blind and partially sighted people.
"The RNIB is an incredible organisation that recognises the benefits technology can bring to its community. At Amazon, we are proud to sponsor the RNIB See Differently Awards, which celebrates the people and organisations dedicated to improving the lives of blind and partially sighted people. Amazon and RNIB have been working together to bring features and skills to help people with sight loss, such as Alexa Show & Tell, Call the RNIB Helpline and "Alexa, read my RNIB Letter from Santa" for children, and adults, to listen to a Christmas message in Santa's voice. We're excited to continue working together with this prestigious organisation to look at ways technology can help blind and partially sighted people in the future."
Matt Stringer joined RNIB in May 2019 after 30 years in the retail sector. He has held senior leadership roles for well-known high street brands including Marks and Spencer, Carphone Warehouse and Mothercare, as well as spending a period in retail consulting at Accenture.
"The See Differently Awards are a brilliant opportunity for RNIB to recognise leaders in our sector who have shown great commitment in raising awareness of sight loss or successfully campaigning on issues that affect people who are blind or partially sighted. It is a great privilege to be able to participate in these awards and for us as an organisation to recognise seven fantastic winners, as well as all the excellent nominees, across the categories."
Since joining RNIB, Matt has led the organisation through a transitional period and the covid pandemic, focusing on access to information and services, challenges of social distancing to fully accessible testing and vaccine processes. The current focus is for RNIB to look forward with confidence into a post-covid world and to ensure society is set up to treat blind and partially sighted people as equals.