RNIB works with Nationwide to create accessible cards
Nationwide works with RNIB to redesign their payment card, making it accessible for blind and partially sighted members.
Summary
Who: Nationwide Building Society
What: Redesigned their payment card to make it more accessible
How: The card design was run past RNIB's User Experience Team to ensure that it enabled them to go through the tried and tested process
Result: The card has been nominated for industry awards, for the social inclusion category
With key expertise from RNIB, Nationwide Building Society has launched a new accessible card – through the addition of design features like dot and notch. The 'dot' feature, which consists of a selection of raised dots on the front of every card, will enable members to distinguish between credit and debit cards, while the 'notch' tells them which way around the card needs to be inserted into card machines and ATMs.
Nationwide was keen that this card be given to all members. The card has been nominated for industry awards, for the social inclusion category. Chris Trewhella at Nationwide Building Society explains the importance of having RNIB's expertise:
"We wanted to ensure that our cards are accessible for all members, so we asked the RNIB to test the card to ensure it would work for our blind and partially sighted members. In doing so we became the first in the UK to have the RNIB tried and tested logo on the reverse of our cards."
Expertise on accessibility from RNIB
Nationwide was keen to consult with RNIB and follow RNIB's Tried and tested process. Chris Trewhella at Nationwide Building Society said: "It was a really positive experience to work with RNIB on our card design."
Introducing accessibility features through a collaborative process
As well as adding the dot and notch, Nationwide worked on increasing the contrast and text size; from the product name on the front, to the phone numbers on the reverse of the card. The card design was run past RNIB's User Experience Team to ensure that it fitted the criteria to enable them to go through the tried and tested process.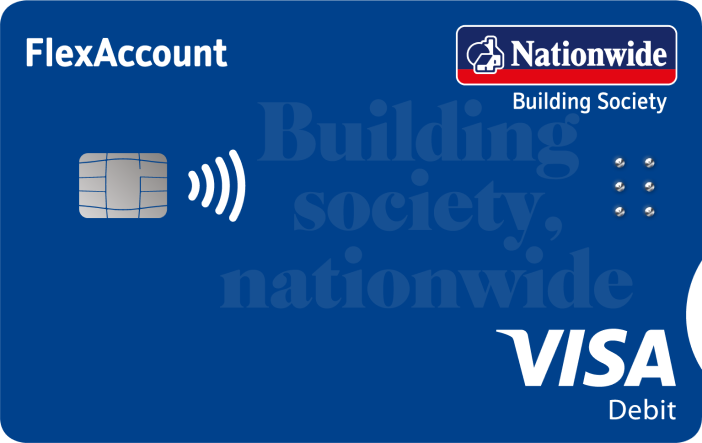 Adjusting the card design based on invaluable feedback from blind and partially sighted volunteers
With RNIB's tried and tested process, partially sighted and blind users were invited to use the cards and asked to provide feedback. At the end of the session, Nationwide received a report from RNIB for all the different products that they were due to launch on dot and notch. They then used that feedback to make any required updates.
Chris continued:
"The most rewarding part was when the cards were available to share with RNIB for volunteer testing. We're really happy that we took all of the feedback on board, and changed the look of the cards."
Building on inclusive design as an organisation
Nationwide have since also addressed accessibility in other areas: all of their ATMs have a speaking facility. They have also looked at explaining the features on the delivery documentation, providing large print, audio and braille alternatives to the documents. They're also contacting their members to receive those alternate format communications, to let them know that these cards are available.
Adopting the mindset of accessibility
Aimee Kneebone, who works on the member vulnerability access and inclusion team at Nationwide Building Society, explains: "This project has made us think differently and is a brilliant example of inclusive design. I've since run a campaign across the organisation to get everybody thinking about members with additional needs – it's everybody's job. It's become a more prominent part of the thought process now and is one of the main criteria for any design."
Chris added:
"I've really enjoyed working with RNIB to increase the priority of accessibility requirements, it has helped me be more aware and I will continue with this kind of inclusive mindset."
Robin Spinks at RNIB says: "It has been a real pleasure to work with the team at Nationwide. They've clearly adopted a mindset of accessibility, and this is reflected in the new card design. Making a product better for blind and partially sighted people automatically makes it better for everyone."
Get in touch
If you've got a project that would benefit from our expertise in accessibility get in touch with us directly on 01733 375 370 or contact our Business Services Team below.