Find a home for Sooty
Join our amazing community of volunteers who help RNIB raise money for blind and partially sighted people with Sooty Boxes.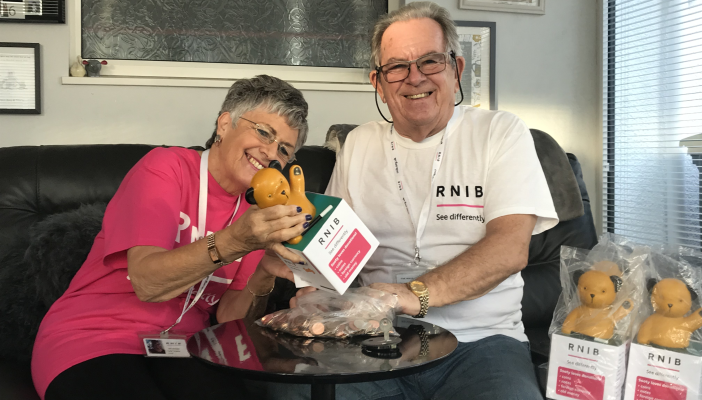 We need your help finding new homes for Sooty Boxes across the UK, so sign up today to become a Sooty Box volunteer in your area or have a Sooty Box at your business!
Sooty changes lives
With your support, RNIB has raised over £13 million since we started collecting donations with Sooty Boxes.
Finding out you're losing your sight can be a big shock and due to a lack of sight loss advisors in the UK, many people are often left to digest the information alone.
RNIB provides invaluable services for thousands of people every day. From emotional support to practical guidance, we're able to be there for all people so they can live their life with confidence. You can help us continue to be there by helping to raise money with Sooty.
Join us! Register your interest in becoming a Sooty volunteer
Join our community of amazing volunteer Sooty box collectors and help us to provide blind and partially sighted people with the support they need.
RNIB urgently needs volunteers to collect and bank donations received through our Sooty boxes, which play a vital role in generating income and raising our profile in local communities. This role is completely flexible, can be performed by individuals, pairs or groups and the time you dedicate to it is entirely up to you and your commitments. You can give your time as little or as often as you like!
Register your interest
Register your business for a Sooty Box
If you're a business owner you can support our cause by registering your business for a Sooty Box by filling out the form linked below.
Register your interest