Blind runner Dave Williams takes on the 2023 London Marathon
Support blind runner Dave Williams, as he takes on the 2023 London Marathon to say thank you to RNIB for a lifetime of support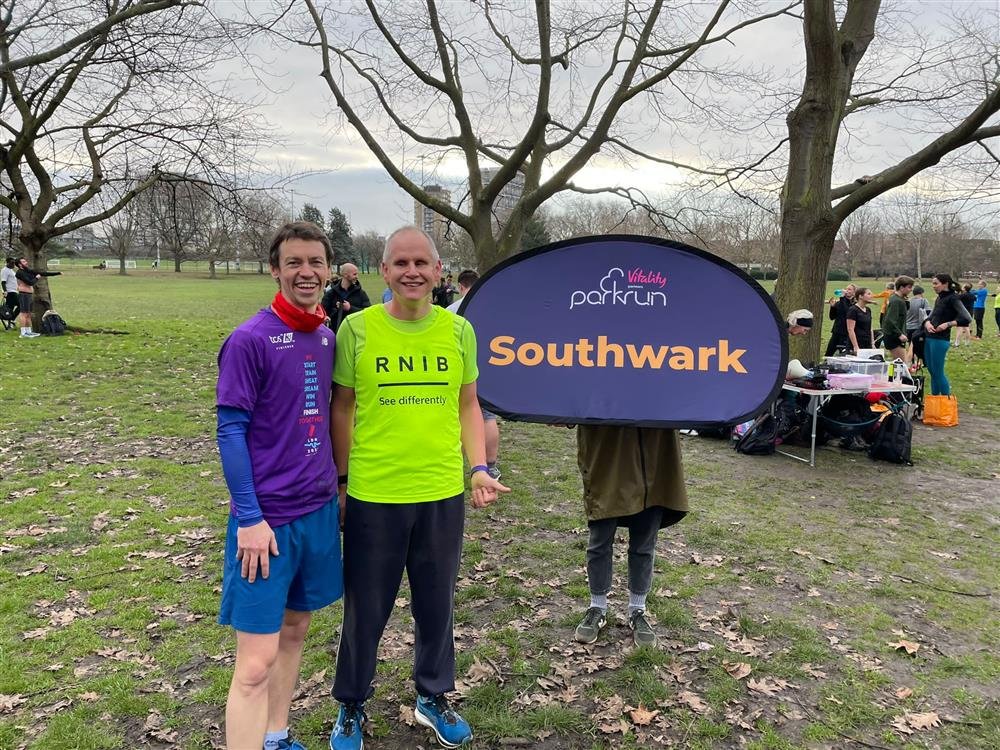 Dave Williams, blind since birth, describes himself as a middle-aged dad who enjoys crisps and beer. Dave took up running five years ago to set an example for his 9-year-old son Arlo.
"I never wanted to be a runner. Dragging myself from Couch to 5K was horrible. But, thanks to fantastic encouragement from family and friends, plus my amazing team of guide runners, I kept going and somehow ran further than I ever imagined possible."
Since 2019 Dave has completed multiple marathons including New York, Boston and Berlin, challenging expectations of what blind people can achieve, and raising money for a stronger RNIB.
Dave explains. "As a blind kid, I learned to read and write using braille books and tools from RNIB. I travel independently using a white cane supplied by RNIB, and benefit from tactile paving and audible pedestrian signals campaigned for by RNIB."
"As anyone can lose their eyesight at any time, we all need a strong RNIB to provide vital advice, tools and support to enable blind and partially sighted people to live the lives we want."
Dave is passionate about making sure that blind and partially sighted people have the information and tools needed to independently raise families, manage personal finance, develop literacy skills, access health information and voting, education and employment services.
"To run London Marathon back in the traditional Spring date for RNIB is a huge honour. And now more than ever RNIB needs your support. Please share my fundraising page."