Minister for Disabled People hears about the challenges of sight loss as he visits RNIB office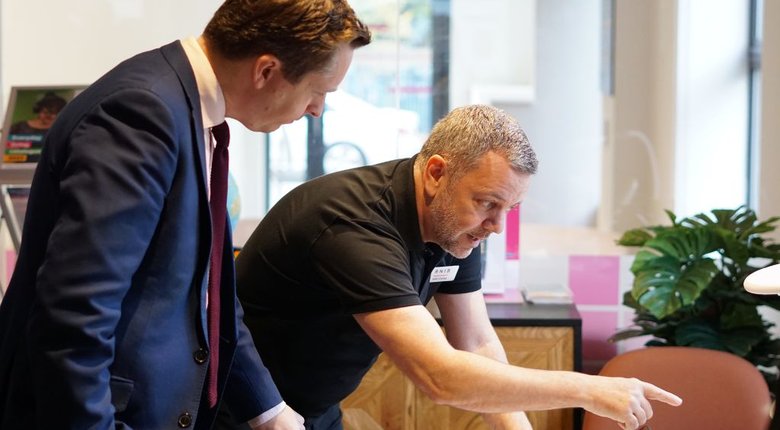 Tom Pursglove MP, the Minister for Disabled People, Health and Work, learnt more about what needs to change to create a truly inclusive society for blind and partially sighted people as he toured RNIB's new London office on 23 October.
Vivienne Francis, RNIB's Chief Social Change Officer, met the minister and said: "It was great to have the opportunity to showcase our Grimaldi office, which was designed with accessibility at its heart – and illustrate to the Minister how we need more people to think about inclusion from the outset in the built environment and beyond. People with sight loss are facing many pressing challenges and with a little thought – and often no additional cost – more aspects of society, from buildings to employment to getting around, would be open to everyone.
"We also talked to the Minister about the importance of an accessibility-first approach in government policies and consultations. With the recent consultation about the potential closures of ticket offices at train stations proving inaccessible to many blind and partially sighted people leading to it being extended, it was useful to talk through a live issue that underscores, again, that people's expectation of inclusion needs be met.
"Blind and partially sighted people can face particular obstacles to enter employment, and it was good to acknowledge our work in partnership to reduce delays in people receiving Access to Work, a government scheme which helps employers to provide additional support such as technology, with Access to Work staff completing RNIB training for instance. We are still keen to work with the Minister to speed up employment support and it was good to discuss how we can collectively keep up the pressure – which blind and partially sighted people need us to do. We are grateful the Minister took the time to find out more about RNIB and our work today."
Tom Pursglove MP, The Minister for Disabled People, added:
"The Royal National Institute of Blind People's new headquarters in King's Cross is an example of best practice in accessible building and design.
It was brilliant to visit the Grimaldi Building, and to see how the refurbishments were carried out in consultation with blind and partially-sighted people. I hope that more organisations will take inspiration from this project so that we see more buildings complying with the industry standard in the coming years."
Her Royal Highness The Duchess of Edinburgh opened RNIB's London office, The Grimaldi Building, in June this year. Designed in consultation with blind and partially sighted people and design experts to ensure it is as accessible and inclusive as possible, Grimaldi is one of the first buildings in the UK to achieve the BSI PAS 6493 "Design for the Mind – Neurodiversity and the Build Environment" rating.
Features include sensory-inclusive lighting systems and in-built tactile surfaces on the inside and outside of the building and a purpose-built Serenity Room for managing sensory overload.
The Minister was joined on the tour by Jean Hewitt and Robert Turpin. Jean is UK Disability and Access Ambassador for the Built Environment and accessibility consultant at Buro Happold. She is the author of the BSI PAS 6493 standard, and she led on the inclusive design of RNIB's new office. Robert is Head of Healthcare Standards at the British Standards Institution (BSI).