RNIB guidance update: sighted guiding advice as coronavirus restrictions ease further
We've updated our guidance on sighted guiding for blind and partially sighted people in England, following the Government's announcement on 17 May.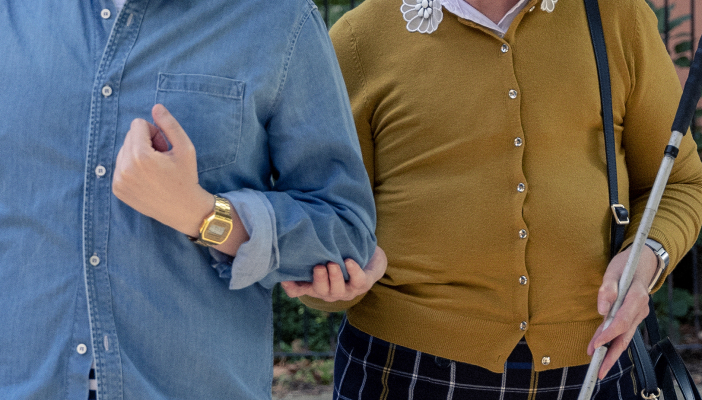 The most recent changes and remaining restrictions can be found in more detail on GOV.UK, with Government guidance now emphasising personal responsibility and judgement.
Sighted guiding support
Blind and partially sighted people can receive sighted guiding for permitted activities and journeys. Our guidance highlights important steps to follow, to minimise the risks of catching or passing on coronavirus.
With more activities now possible, it is important to bear in mind that Government guidance on good hand and respiratory hygiene, social distancing and face coverings remains in place, even if people have been vaccinated. People who were previously shielding should also continue to take extra care, again even if they have been vaccinated.
Information in our guidance includes:
Up to six people from two households can meet indoors ("the rule of six"), and this can include people from support bubbles. Up to 30 people can meet outdoors.
Services now open include indoor hospitality, cinemas, hotels and organised indoor sports, including gyms.
Blind and partially sighted people can be supported by a sighted guide to take advantage of relaxations, while exercising good judgement to reduce risks.
People being guided can now meet their guider inside their house, rather than at the front door - but this should not break the rule of six.
Sighted guiders do not count towards limits in indoor or outdoor gatherings while guiding but, when not guiding, they must wait somewhere safe until needed. Otherwise, they should be counted.
People involved in guiding should still follow our guidance even if vaccinated.
In areas with a higher incidence of new coronavirus variants, the Government may issue additional advice.