Real stories
Hear about the real-life implications of inaccessible packaging from those living with sight loss.
There is an extensive list of practical challenges resulting from inaccessible products for blind and partially sighted people. This can relate to allergies, intolerances, ethical choices (for example, sustainability, organic, vegetarianism, Halal), weight-related diets, meal planning and buying for others.
Inaccessible packaging information can lead to an overwhelming and consistent sense of frustration and exhaustion when having to navigate this problem, every single day. 
People with sight loss should have equal opportunities to live an independent lifestyle that they choose, through choice and access to information, leading to increased spontaneity and empowerment, just like everybody else. 
We spoke to a few individuals living with sight loss about the real-life implications and challenges they face because of inaccessible packaging. Read some of their stories below:
Laura and Jorja's story
Laura's daughter, Jorja, has had nystagmus since birth. She also has photophobia, stigmatism, and a converging squint, meaning that her spatial awareness isn't great, and her peripheral vision is very poor.
Jorja was also diagnosed as Coeliac just after her fifth birthday, so she must have a strictly gluten-free diet. Due to inaccessible packaging, Jorja struggles to buy food independently and safely.
"When I'm not with her, Jorja calls me to search for something online, so that I can read through things. Or, she'll ask somebody at the shop to see if they know," said Laura. "As with a lot of labelling, the information's in the tiniest print at the very end of the ingredients list, and Jorja can't read that. So she ends up buying things that she always has, because she knows that they're safe – but this completely limits her free choice."
Read Laura and Jorja's story
Mark's story
"I struggle to go shopping on my own and need help from assistants. I'm not sure if I'm picking up a pack of filleted chicken or chicken wings, I can't tell the difference.
"Having limited access to information is quite daunting – it makes you feel less confident and more inept, constantly feeling like a burden. So, this has a knock-on effect when it comes to getting out and about."
Read Mark's story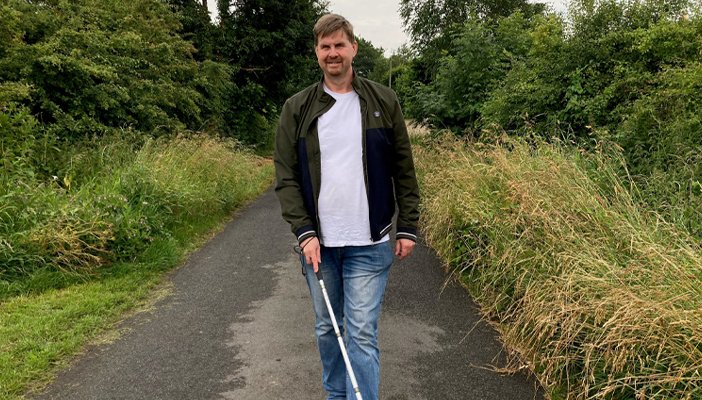 Sam's story
Sam was diagnosed with Diabetic Retinopathy and Neuropathy six years ago, and now has a guide dog. She struggles to find accessible nutritional information, which continues to put her health at risk and affects her sight
Read Sam's story