There are simple and easy things to do to help us make the world a better place for people with sight loss. Here are some videos which explain what people with sight loss would find the most helpful in different situations, such as, when being approached in the street. Watching these will help you think and see differently about sight loss in the future.
Approaching someone with sight loss
How do you introduce yourself to someone with sight loss? How do you support someone with sight loss in getting around within buildings and outside? Each person's experience is different and unique and there are no hard and fast rules on how to assist people with sight loss. If you see somebody who you think may need help, then ask. Let them tell you what kind of help they need.
Employing someone with sight loss
Only one in four blind and partially sighted people of working age are in employment.
Making streets more accessible
Being able to get around safely is important for everyone, but for people with sight loss some things can make it harder to do this. We can all play our part to make our streets more accessible and inclusive so everyone can use our streets independently.
Guiding a blind or partially sighted person
The practical advice and information given here will help you feel confident about guiding people with sight loss.
How to guide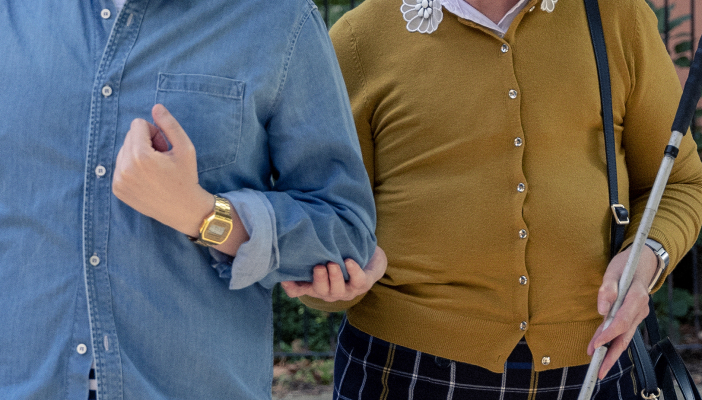 Understanding sight loss
Dispelling myths and misconceptions around how blind and partially people see.
Understanding Sight Loss