"Comedy changed my life": Tafsila Khan tells her stand-up story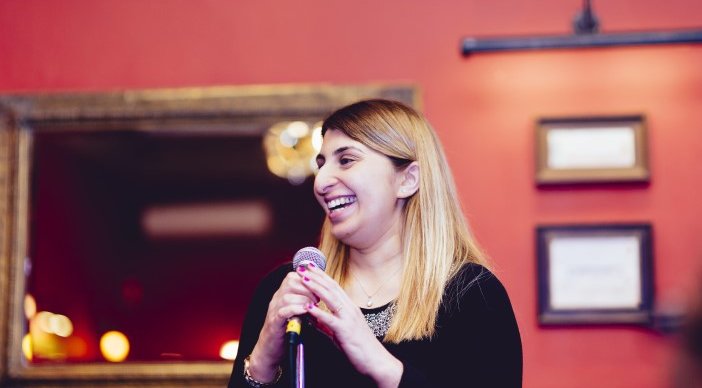 Two years ago, RNIB Cymru campaigner Tafsila Khan could never have imagined herself on stage. She had always been told she had a talent for wit but never saw herself as a performer.
But suddenly in June 2018 she found herself in the spotlight, cracking jokes in front of an audience of 50 people. To her surprise, it felt completely natural. That's when Tafsila realised that comedy was something she was born to do, that could also change her life.
Tafsila, 36, was born with the hereditary disease Cone-rod Dystrophy and has been blind since birth. In 2018 she signed up for RNIB's See the Funny Side, a two-day course that teaches blind and partially sighted people to put together a stand-up comedy routine, with a performance at the end.
Though Tafsila was nervous at first, she found that comedy gave her a newfound sense of confidence. With guidance from renowned comedian Georgie Morrell, she wrote and performed a laugh-out-loud piece about sight loss and motherhood.
She has since performed her routine in theatres and fundraising events across the country, gaining praise for her wit and delivery wherever she goes.
Tafsila said: "I have always used comedy make other people comfortable with my sight loss, so I found it easy to create the routine. I've told stories about funny experiences that have happened to me throughout my life to break the ice with new people who have never met someone with sight loss before. It puts them at ease and lets them know that they can talk to me normally and have a laugh.
"But I never thought I could get up on stage and tell jokes, so when my friend suggested I signed up I was unsure. Despite my worries, I decided to go for it anyway and am so glad I did.
"The course was amazing and a very fast learning process with Georgie giving lots of pointers. It was nice to meet other people in the same boat as me and to share experiences that shaped our routines. And performing was such a buzz! It felt so right to be on stage making people laugh. In a way my sight loss helps because I can't see the audience and don't feel as daunted.
"I felt like I really accomplished something. See the Funny Side has made me a person that will try anything once and not be scared. It is so much more than a comedy workshop. It has helped my health and wellbeing and opened so many doors. It's the best thing I've ever done for myself."
See the Funny Side workshops were originally scheduled to take place in Cardiff, in June this year but are postponed until further notice. However, it is still possible to apply for the workshops. Applicants must be blind or partially sighted, aged 16 years or older and live in the United Kingdom.
If you would like to take part in See the Funny Side all you need to do is tell us why you want to take part and tell us your funniest joke. To apply please contact 0303 1234 555 or email: [email protected].