RNIB guidance: sighted guiding during England's national lockdown
With England in its third national lockdown, we've issued updated guidance for blind and partially sighted people, including information on sighted guiding.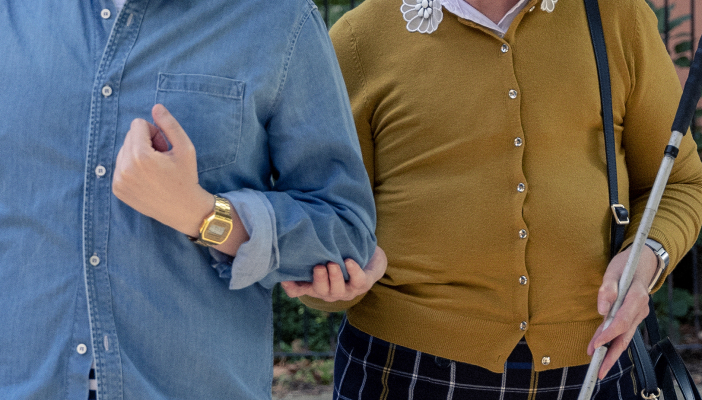 Our guidance refers to the new national lockdown restrictions across England, which can be found in more detail on the Government website. These restrictions include minimising the time we spend outside our homes, along with significant limitations on where we can go and who we can meet.
Sighted guiding support
Sighted guiding for blind and partially sighted people can continue, but our guidance highlights important steps to follow, to minimise the risks of catching, or passing on coronavirus.
This includes:
When being guided, only permitted activities and journeys should be made.
If you are able to receive sighted guidance from a person in your household, this is the least risky option.
If there is no sighted guiding support within your household, you can then receive sighted guiding support from a person you have formed a support bubble with.
You can also be supported by someone outside your household, or support bubble, but this is the least desirable option during lockdown in England.
If you are extremely clinically vulnerable and have been advised to shield, then you should only be guided by someone in your household or support bubble.
When being guided, existing guidance on sighted guiding must be followed.
Our updated guidance gives further detail on sighted guiding and links to Government rules and advice during the national lockdown.