RNIB guidance update: sighted guiding after 19 July 2021
Following the relaxation of coronavirus rules, we've issued revised guidance on sighted guiding, agreed with Guide Dogs and Thomas Pocklington Trust.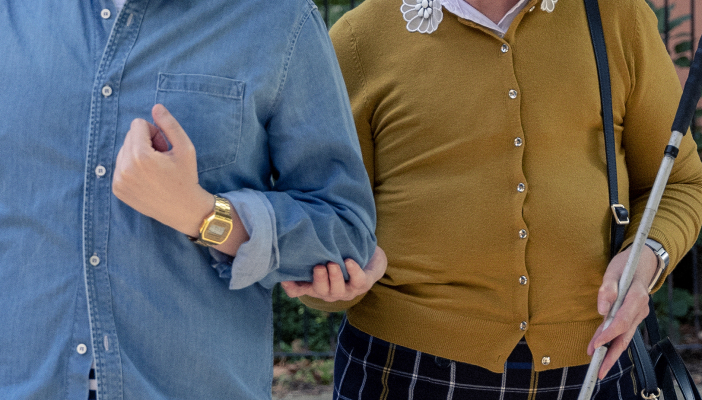 Our recent update still recommends people are careful while guiding, particularly if anyone involved was previously shielding, although this is now presented as advice, rather than a requirement. In general, people should continue to:
wash their hands more frequently and maintain good respiratory hygiene
meet up outdoors, or in a well-ventilated area indoors
be careful about how many people they come into close contact with
use the same person to guide them when possible.
People should also continue to use face coverings in busy places, particularly indoors or on public transport.
We're continuing to work with the Cabinet Office to get a more accessible lateral flow device test issued, so blind and partially sighted people can self-test without assistance and get additional reassurance.
Eleanor Thompson, Head of Policy and Public Affairs, said: "It's important that blind and partially sighted people are able to enjoy the relaxation of coronavirus restrictions in the same way as everyone else. However, we would also say that the transmission rate is still high, so people will still need to take sensible precautions to keep themselves and those around them safe, even if they've been fully vaccinated."